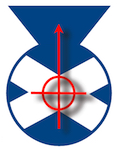 ScotShot LLC - ScotShot Handgun III &copy.

SCOTSHOT RIFLE-II; RIFLE BASICS, ENHANCED ©
ScotShot Rifle-II is a Basic Level course. It is a 6 hr course that has 3 hrs of classroom time and 2 hrs of range time, with discussion and range safety briefing. The purpose of Rifle-II is to extend rifle skills and provide a thorough understanding of how your firearm works in relation to your body. We extend shooting techniques and exercises, and introduce defensive shooting.

WHAT THIS COURSE IS FOR
This class is suitable for beginners who own their own firearm, experienced novices and more experienced shooters. It is also ideal for those who want a refresher with their new firearm, and experienced shooters who have been away from the sport for a while. Its purpose is to make people familiar with the parts and function of their own rifles, and to prepare them for more advanced training and gun-handling concepts.

WHAT THIS COURSE CONTAINS
We cover and review: firearm safety; the rules for safe gun handling and the safe direction. We then discuss field-stripping and reassembling your rifle, and discuss how to properly clean and lubricate it. We review the 5 fundamentals of shooting. We discuss how the various parts of the rifle work together during firing. We describe how to pick up the gun safely and correctly, and present it to target. We discuss the critical relationship between your rifle and your upper body. We review the standing and bench-rest positions, and study the kneeling, sitting and prone positions. On the range, we will shoot all five positions and introduce sighting the rifle and minute-of-angle. We will use telescopic and red-dot sights.

WHAT YOU NEED TO BRING
Students should bring their own NJ-legal rifle (bolt action, or semi-automatic) and 100 rounds of store-bought, factory-loaded ammunition. Hand-loaded ammunition is not allowed. We will provide a range of alternative rifles and ammunition for you to try. Preferably you will have taken NRA Basic Rifle. We expect that you will already have your preferred eye-protection and ear-protection. You should also bring a willingness to learn, a desire to succeed and an open mind. If there is someone in your home (eg partner, spouse or older child). While this is not a class for the brand-new shooter or complete novice, it is beginner level and can be taken by adults and supervised older children.

WHAT YOU WILL TAKE AWAY
We provide all training materials, including non-functioning, training ammunition for the classroom. We provide classroom and range facilities, including targets. We also provide coffee, water and assorted snacks, however, you should bring a light lunch. At the end of the course, we issue a Certificate of Training to those who meet the necessary standard of safe attitude and safe gun handling. Most of all, you'll take away some strong ideas for training to improve your shooting in terms of ability and versatility, a deep working knowledge of your rifle, an understanding of the biomechanics of rifle shooting, and a follow-up plan to develop your shooting strengths and address your shooting weaknesses.

Thank you for choosing ScotShot for your firearms training - see you in class!

LOCATION: Fort Dix Range 14.

DATES: As shown below

LENGTH OF CLASS: 6 - 7 hours, depending on the number of participants (limit, 6).

COST: ScotShot Rifle-II, $175 per person

DATES are still to be determined. Please check back frequently.

If you would like us to set up a class specially for you, Contact us.