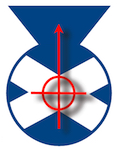 ScotShot LLC - ScotShot Handgun II &copy.

SCOTSHOT HANDGUN-III; USING A HOLSTER ©.
ScotShot Handgun-III is focused on the safe use of a holster. It is a 4 hr course that has 3 hrs of classroom time and 1 hr of range time, with a break for discussion and range safety briefing. The purpose of Handgun-III is to introduce basic, safe and reliable techniques for the safe use of a holster.

WHAT THIS CLASS IS FOR
This class is suitable for enthusiastic and fluent handgun shooters who own their own firearm, are experienced and comfortable with "running" their handgun, and who want to advance their handgun ability towards a concealed-carry mindset.

WHAT THIS CLASS CONTAINS
In the classroom, we review the core firearms safety rules, and specific rules for holster use. We discuss the "defensive mindset" and how it applies in a violent encounter. We discuss the pros and cons of different hoster types, and different types of carry firearms. We consider where one might carry a concealed firearm, on or off one's body. We study the basic method of drawing a firearm from a hoster and the importance of safe-practice for reholstering. We study this method to address targets that are to the front, left, right and behind. On the range, we introduce and practice these concepts at different distances, and shooting the standard FBI qualification.

WHAT YOU NEED TO BRING
Students should bring their own NJ-legal semi-automatic handgun, two magazines and 150 rounds of store-bought, factory-loaded ammunition. Hand-loaded ammunition is not allowed. Preferably you will have taken ScotShot Handgun-I &copy, USCCA Basic Defensive Pistol, NRA Basic Pistol, NRA PersonalProtection Inside the Home, or some other intermediate handgun class. We expect that you will already have your preferred eye-protection and ear-protection. You should also bring a willingness to learn, a desire to succeed and an open mind. This is not a class for the brand-new shooter or complete novice, it is advanced level and requires strong existing skillsets to gain most benefit. You should be at least 21 years old to take this class.

WHAT YOU WILL TAKE AWAY
We provide all training materials, including non-functioning, training ammunition for the classroom. We provide classroom and range facilities, including targets. We also provide coffee, water and assorted snacks. At the end of the course, we issue a Certificate of Training to those who meet the necessary standard of safe attitude and safe gun handling. This can serve as "Proof of Training" for the popular Florida Concealed Weapons Permit application. Most of all, you'll take away some strong ideas for training to improve your shooting, and a safe working knowledge of how to use a holster with your handgun.

Thank you for choosing ScotShot for your firearms training - see you in class!

LOCATION: Fort Dix Range 14.

DATES: As shown below

LENGTH OF CLASS: 4 - 5 hours, depending on the number of participants (limit, 6).

COST: ScotShot Handgun-III, $105 per person

DATES are still to be determined. Please check back frequently.

If you would like us to set up a class specially for you, Contact us.